Reduce building costs.
Perfect Block ICCF
Protect homes and businesses.
Perfect Block ICCF
100% Recycled Expanded Polystyrene foam.
Perfect Block ICCF
Perfect Block ICCF, A Proven Process
Our design, production, and execution process is setting new building standards.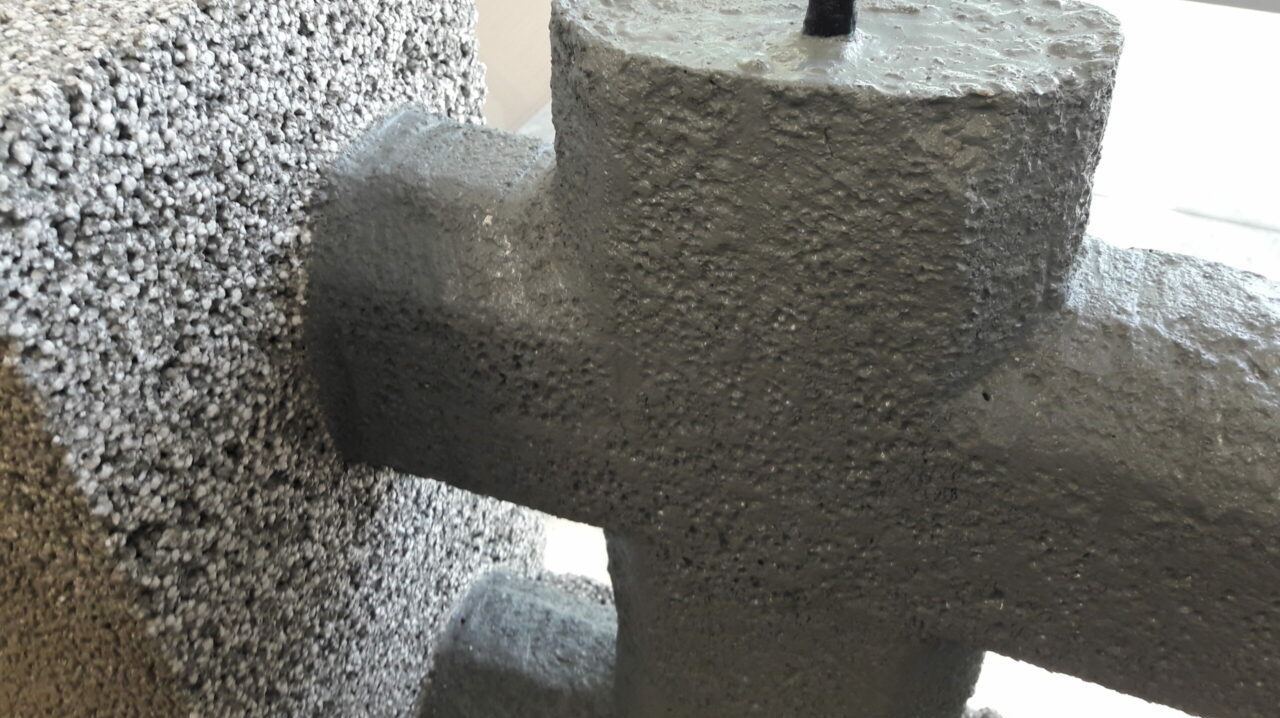 Superior Strength
Perfect Block ICCF structures are 700x more robust than wood.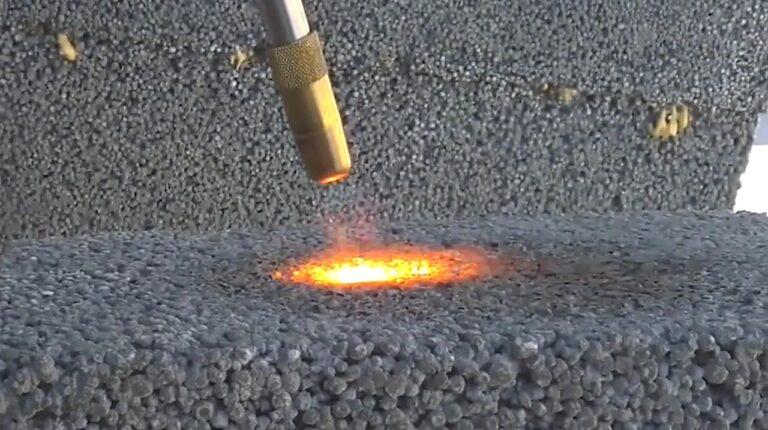 Four Hours at 4000℉
Fire Resilient to direct flame up to 4000 degrees.
Perfect Block ICCF cores are spaced 12″ on center.
Increased wall strength and cut block 12″ can be used for primary wall construction.
Perfect Block ICCF Questions Answered
With this new technology readily available, EPS recycling has finally become a reality.
Perfect Block ICCF forms come in many sizes and insulation thicknesses to optimize the builder's desires and requirements.
What is Perfect Block ICCF
Perfect Block ICCF is an insulated composite concrete form (ICCF / ICF) made from 100% recycled expanded polystyrene (EPS) ground into an aggregate. Mixed with Portland cement, proprietary additives, and water, then cured in a mold. After which, the ICCF/ICF form is a sturdy, rigid, and dense block.

The block form has to be strong and dense to hold the extreme pressures exerted on it when grouted solid with heavy wet concrete grout with an 8-9 inch slump. The block's hardness makes it difficult for rodents and insects to burrow into it.
How Tall Can Perfect Block ICCF Walls Be Built
Perfect Block ICCF forms have been engineered and built to 48 plus feet tall (free standing/load bearing). It is important to note that in most applications, Perfect Block ICCF projects using ACI 318, like any steel reinforced concrete wall, can be designed.
With Perfect Block ICCF, structures of up to two stories can be built following the IRC Section R611 or the Prescriptive Method for Insulating Concrete Forms in Residential Construction ( EB118 ).
What If There Isn't Any EPS
With this new technology readily available, EPS recycling has finally become a reality, which is why our business succeeds.
Are Perfect Block ICCFs Code Approved
Yes. Every primary code body in North America, including ICC and CCMC, has approved ICCFs.
ICCFs are a prescriptive method of building in the International Residential Code and can be made to commercial design specifications using the International Building Code.
Is Recycling EPS Environmentally Safe
Pound for pound, it takes much more landfill space than anything else buried there. According to some estimates, EPS waste amounts to 20-30% of the volume of landfilled trash.
It makes up to 80% of the plastic litter in our oceans. Tiny particles look like food to many marine animals, but it has no nutritional value. Worse, it gradually kills them by clogging up their digestive systems.
Why Is Perfect Block ICCF Great For EPS Recycling
Because EPS is an abundant resource, we use 100% recycled EPS in our Perfect Block ICCF forms.
We provide superior next-generation
construction materials to the building industry
Perfect Block ICCF Key Descriptors.
Watch Perfect Block ICCF In Action
The Perfect Block foundation system on this high-performance house in Upstate New York saves 60% of the concrete needed for a conventional slab.
In October 2021, Connecticut-based builder Ben Bogie of BPC Green Builders broke ground on a trailblazing project in the Hudson River Valley (climate zone 5). In collaboration with Trillium Architects, the 5000-sq.-ft house is Japanese pagoda–inspired and promises to be lesson-rich.
The overarching goal is to use building science-based best practices—products, techniques, and assemblies—to construct a high-performance, net-positive house. Keeping upfront carbon emissions to a minimum is a crucial objective. 
To that end, the project minimizes virgin foam insulation, reduces concrete where feasible, is engineered to avoid the need for steel and optimizes materials made of recycled content.
Our design, production, and execution process
has set new building standards
Wall thickness and density further enhance thermal resistance over stick framing and traditional construction.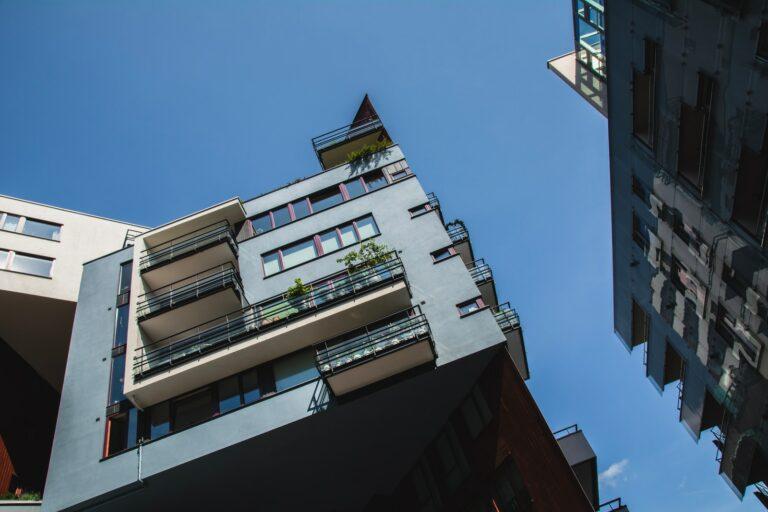 Integrity, honesty, and fairness in our relationships with suppliers, subcontractors, and customers are how we do business.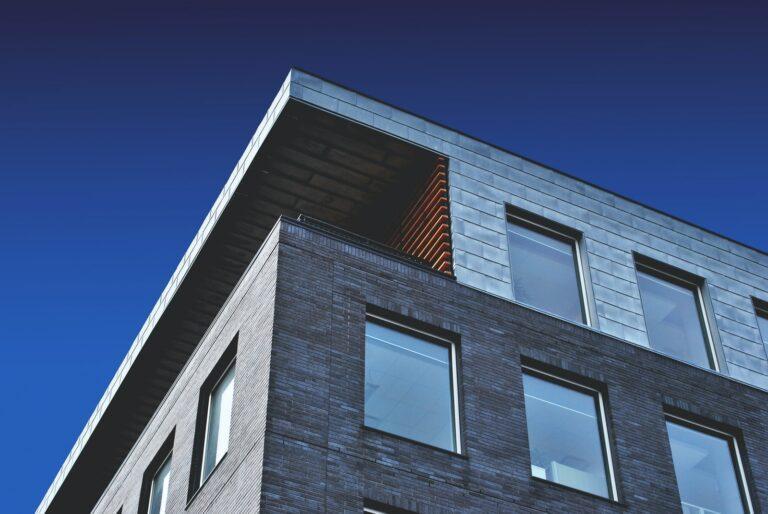 Perfect Block ICCF is affordable, disaster-resilient, and energy efficient for everyone globally. Build for the future with our proven process.
Perfect Block ICCF Defined.